I never really thought of hiring a backup photographer because it means additional expenses. I wasn't also as impressed with other photographers' works as I was with Osep&Mimi, so I didn't really have a choice for a backup photographer yet, if ever I would decide to get one.
But then we had our freenup with NYOi, and everything changed. Suddenly, I wanted to book NYOi as our backup photographer! We love how our pictures turned out, and we are already comfortable working with them. Plus, they have super low introductory rates. Imagine, I could get them as my backup photographers for only P6,000! Now I'm thinking of adjusting our budget to accommodate them. Waah! The fickleness of the bride strikes again.
Still, I don't know if we could afford to get NYOi as our backup photographer, even with their low rates. No, scratch that. We could DEFINITELY afford them. The real question is, I'm not sure a backup photographer is worth spending more money for. Now before any violent reactions, let me explain myself. You see, at the start of our wedding planning, I took into consideration how much we could save in the span of two years. Then I drafted a budget that would still leave us P50,000 for our future savings. Now, we could afford a backup photographer since we have enough money in our account, but am I really willing to use money allotted for our future savings to pay for that backup photographer?
Also, Mox didn't want to have a backup photographer because he didn't see the need for one one. "May photographer naman tayo eh. Dagdag gastos lang yan," he would say. And while I do agree with his sentiments, the maarteng bride side of me still wants her backup photographer. Haha!
To help me decide, I listed the reasons why I should and should not get a backup photographer.
WHY I SHOULD GET A BACKUP PHOTOGRAPHER
More photos to choose from. This is actually the main selling point for me, especially since I love having my picture taken. Haha! It's better to choose a backup photographer with a different shooting style from your main photographer since you'll be getting pictures taken from different perspectives. So if Osep&Mimi's shots are vibrant and colorful, then the backup photographer can take shots that have a vintage and dreamy effect. Oh diba, best of both worlds.
No details will be overlooked. There will be more eyes (and cameras) for other wedding details that the main photographers may overlook. For example, while Osep&Mimi takes the official wedding portraits, then the backup photographer can take candid photos of the guests.
WHY I SHOULD NOT GET A BACKUP PHOTOGRAPHER
Additional expenses. A backup photographer's fee usually ranges between P5,000-P10,000. Plus, this also means having additional mouths to feed, so more supplier meals are needed. So again, more gastos talaga.
Backup photographer might overshadow main photographer. Of course, I'm sure naman NYOi won't do this, but there are actually some cases where the backup photographer actually acts like he/she is the main photographer! Nakakahiya lang pag nangyari ito eh.Magsasapawan lang sina main and backup.
I really don't need one. We plan to only have 150 guests, and I believe Osep&Mimi can handle a wedding of that size perfectly. So there is no pressing need for a backup photographer... well, except for mere kaartehan purposes only. Hehe.
Obviously the cons outweigh the pros here. So I guess, I already have my answer. Oh well, I'm sure a lot of our guests will bring cameras to our wedding. Maybe I'll just grabbed some photos from them.
Tipid moves lang.
Haha!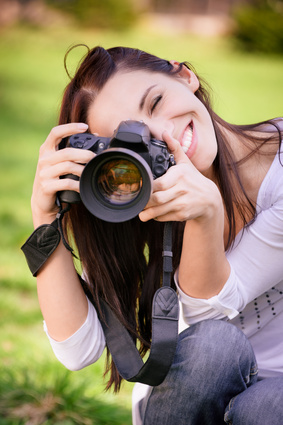 Ihanda na ang mga SLRs. Haha!